Well, my brain is kind of jumbled this afternoon. This past week was a blur and I'm thankful it is Friday, that is for sure!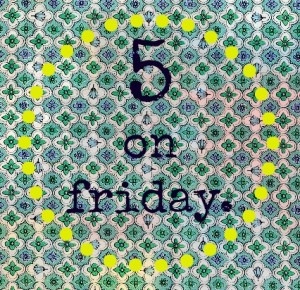 One.
This week basically consisted of teething, early mornings and nap scheduling. No complaining here, but I am OVER THE MOON that his little teeth popped through and my happy boy is back:)
Two.
Travis had a work dinner this week and I surprised him by showing up without the baby:) We got there about 30 minutes before everyone else–date night at our favorite Mexican restaurant–HOLLLER.
Three.
Our little boy is crawling now and I'm realizing that wherever I go, I have a little shadow lurking behind me. And I wouldn't have it any other way…
Four.
While Brody was having his 'independent play time' in his room this morning, I heard him coughing. It is not unusual for him to choke on his own saliva so I didn't think much of it. But, praise the Lord that my mommy instinct told me to just go check. He had taken the little perfect choking size cap off of the doorstop and was chewing/choking on it. I'm so thankful for that voice in the back of my head. He was sad I took it away;)
Five.
As I was driving downtown yesterday, I remembered that it was going to be Farmer's Market night. I thought about how I wanted some fresh flowers. I thought that it had been a while(like December) since Travis had gotten me flowers. I usually tell him not to waste the money on them–they die too quickly. I didn't mention it to him that I wanted any but look what he walked through the door with…
This guy of mine is such a smarty!
Enjoy your weekend, friends!