Yay for Friday! I genuinely hope you all have had a great week!!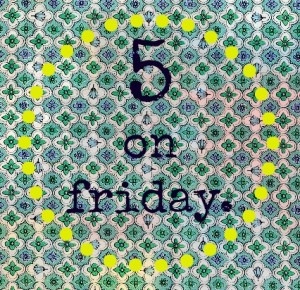 One.
My mom was visiting this past weekend and I hate it when she leaves. She is so fun to have around–I can't describe the joy of seeing her with Brody. He knows his nana and was giggling lots for her! I also enjoy her visits because she let Travis and I go on a few dates! We played tennis and also went to a local comedy show. It was really fun!
Two.
I had some friends over Monday with their babes. We ate some heart shaped rice krispy treats and went for a walk in the sun. The four babies are just months apart and are destined to be good friends:)
Three.
I stayed inside all day Wednesday–I hate it when that happens. It was a beuaitful day but I was busy cleaning the house and editing. At the end of the day I feel good because I was productive but I definitely need to get out more!
Four.
Speaking of editing–I am seriously loving working again. It feels good! Stay tuned for little Owen's blog post on Monday. He is a cutie.
Five.
I went to my favorite local coffee shop for the first time in a while. I had a free drink so I think I enjoyed the drink that much more! It was relaxing and a little different with having Mr. Brody tag along. He slept for the first 30 minutes so I just sat there. It was great:)
Have a great weekend, friends! AlbiniPhotography has a fun announcement coming soon so stay tuned!!