We've been on vacation the last two weeks so please excuse my lack of Five on Fridays. I have lots more than five things I could share about our week but I will try to stick to the guidelines here:)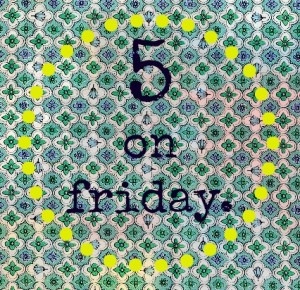 One.
We are staying at Travis' parent's house this week for the last week of our vacation. They are having their Master bathroom redone so there are 8 of us sharing one bathroom:) That smiley face is sarcasm.
Two.
I have been able to spend lots of time with my twin sister this week. It is so much fun for me to see her with Brody. She is one proud auntie–that's for sure!
Three.
Travis' parents are always so generous with their time and house. We say "Hey, we are having some friends over" and they never have an issue with it. It's so nice. All that to share that we had a fun little dessert get together with some friends on Wednesday. Travis' older sister did her thing and spoiled us with homemade blueberry pie and baked brie–yummmm.
Four.
Coffee dates with friends are one of my favorite things. So glad a good friend from High school invited me to a morning coffee date. I really enjoyed it. Brody enjoyed sleeping in his car seat too.
Five.
My sister and I went to Target together yesterday just to get some essentials. You would've thought we were going on a full blown shopping spree with how excited I was to be there! Travis stayed home with the baby and I was walking rather slowly through those aisles:)
Thank you for following!
Some highlights from your week??