You know those Fridays where you are just so grateful that tomorrow is Saturday? TGIF!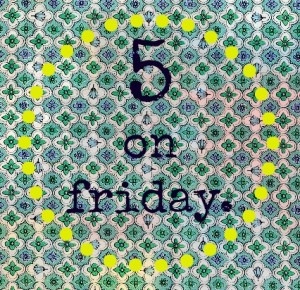 One.
We got back from our week of vacation in San Diego on Monday after a not so great travel day. Let's just say that I nursed Brody multiple times on our 1.5 hour flight just to keep him quiet. We were so happy to get home! (and we put him to bed super early 😉 )
Two.
We learned this week that God closes doors that we thought were open. And we are also learning and comprehending more that He knows exactly what He is doing.
Three.
Coming home from a vacation always gets me in a more disciplined and organized mode. Projects around the house are getting done and meal planning actually happened this week! I'll write a post on the few Pinterest meals I've cooked–they were successes…which is kinda unheard-of from Pinterest 😉
Four.
I got to visit a dear friend in the hospital and love on her new baby boy. I came home to tell Travis "It made me want one!" and he responded with "I knew it would…" He knows me so well!
Five.
I found out today that I'm going to be an aunt to a sweet baby girl!! My older sister and her husband are expecting and I'm so thrilled for them. Crosby Ann Judd–I can't wait to meet you and spoil you like crazy! To celebrate, I got my first red cup of the season. Starbucks, you get me every November!